Fosmon Dual Battery Fast Charging Station for 【 Xbox 】
With this double charging station offered by Fosmon, don't get stuck in your games because of the battery.
What is a charging station?
A loading station, is a shelf in which we can load our controls or crontrollers while we are not playing, this way it fulfills two functions:
Having the playground organized
Charging the batteries of our controls
Fosmon Cargador Mando Xbox One, Doble Estación de Carga Cargador Rápida con 2 Recargable Baterías para Controladores Inalámbricos Xbox One/Xbox One S/Xbox One X/Elite (Negro)
[CARGADOR DE CONTROLADOR XBOX ONE] ¡Despídase de las pilas AA! Con el cargador del controlador Xbox One de Fosmon, ya no necesitarás seguir comprando baterías para tu controlador - xbox one carga y juega
[COMPATIBLE CON CONTROLADORES XBOX ONE / ONE S / ONE X / Elite] Esta estación de carga de controlador funciona para los controladores X / One One / One X / Elite
[MAYOR VELOCIDAD DE LA BATERÍA] Los paquetes de baterías NiMH de la estación de carga 1000mah de la estación de carga Xbox One de Fosmon brindan hasta 30-33 horas de tiempo de reproducción.
[FÁCIL DE USAR] Cuando no esté jugando, simplemente coloque el Controlador Xbox One equipado en la Estación de Carga y comenzará a cargarse automáticamente sin necesidad de quitar la batería. El indicador LED verde parpadeará cuando el controlador se esté cargando y se mantendrá encendido para indicar que la carga está completa.
[GARANTÍA LIMITADA DE POR VIDA] Este producto viene con una garantía limitada de por vida. Por favor, consulte el sitio web de Fosmon para más información.
Compatible controls
This charging station is compatible with the following Xbox controllers:
Xbox One

Xbox One S

Xbox One S Battlefield

Xbox One X

Xbox One Elite
Operation Mode
The kit comes with a battery that replaces the battery compartment of the original remote control. By inserting it, we convert our controller into a battery-powered controller, which can be charged through our double charging station or through a USB type B cable, allowing us to charge while we continue the game or Charge and Play.
Once the game is over, we can put the controllers in our load base so that they are ready for the game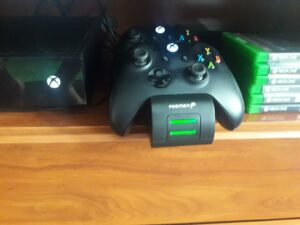 The base has an LED indicator that will flash while charging.
Rechargable or Non Rechargable
Batteries give you many more options than batteries, since it is possible to stay at night or on weekends without batteries for the controller and how do we play now?
We can always charge the batteries while we play, for this reason, the batteries give us an almost infinite possibility of juice.
The batteries are 1000 mAh NiMH. They are designed to last, with a life span of over 1,000 charge cycles, that's a long game to our favorites.
Características técnicas del pack
Input: USB Micro-B

Output: USB Type A

Charging time: 4-5 hours

Loading cycles:> 1000

Battery information: 1000 mAh NiMh rechargeable battery packs

Battery life: up to 30-33 hours playback time

Battery safety: SGS certified UL 2054 standard
Recommendation
My recommendation is clear, first for not having the controls lost all over the room and then for always having them with batteries. And I personally didn't think twice about it and threw him headlong into the charging station.
Find more products Xbox