Logitech G920 Driving Force Steering Wheel for XBox and PC
If you want to feel like a real driver, you need the Logitech G920 steering wheel to enjoy your Xbox One and your favorite racing games.
As we reviewed with the Logitech G29, this is a superior flyer with which it shares virtually everything except the motherboard, as this is what makes it compatible for Xbox.
Features
Force Feedback double motors
Easy access XYAB buttons
Footswitch with metal touch
Leather steering wheel.
Offers
Logitech G920 Driving Force Volante de Carreras y Pedales, Force Feedback, Aluminio Anodizado, Palancas de cambio, Volante de Cuero, Pedales Ajustables, Enchufe EU, Xbox One/PC/Mac, Negro
Funciona con Xbox One y PC: Driving Force se ha diseñado para los juegos de carreras en la consola Xbox One recientes; G920 Driving Force Pro también se puede usar en PC con determinados juegos
Controles para Juegos de Fácil Acceso: El mando de dirección, los botones de la consola y las palancas de cambio semiautomáticas están situados en el volante para aportar comodidad
Montaje Seguro de la Palanca: Abrazaderas integradas que permiten instalar la palanca de cambio de forma segura
Recorrido Corte de Seis Velocidades de la Palanca: Tiene 6 velocidades con diseño en H que se mueve con soltura
Construcción Duradera: Con cojinetes de acero en el eje del volante y pedales y palancas de cambio de acero inoxidable, Driving Force se ha diseñado para ofrecer una experiencia de conducción óptimo
Box Contents
Steering wheel
Pedals
Power Supply
Docs
Metal and Leather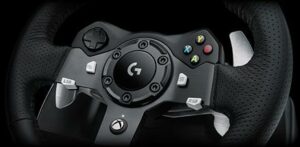 The steering wheel is designed in leather and both the frame and the levers are made of metal.
This gives you a firmness and security in the game that makes it more real in driving and feeling the asphalt in your own hands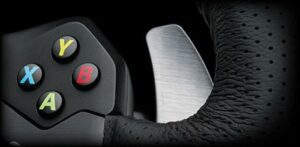 The metal levers give a feel to the gearbox just like a street car.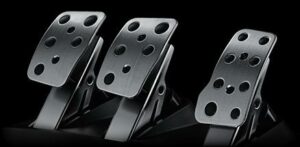 The pedals as well as the derailleur are in metal on a plastic base with non-slip rubber to avoid problems during play.
Touch of the Wheel
The steering wheel does not have the dimensions of a street car steering wheel, so until we get used to its dimensions, it will seem strange at first. The diameter of the steering wheel is 27 cms while car steering wheels have a diameter of around 38 cms, almost 10 cms more.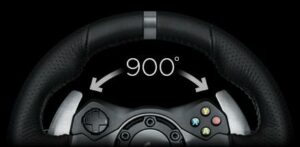 It has 900 degrees of turning, which brings it closer to the wheel of a street car, as it has a turning angle of 720 to 900 degrees.
The feel of the leather and the 900 degree turn bring us closer to reality by saving those 10 cm of difference in the diameter of the steering wheel.
Logitech G920 Video
Logitech Driving Force Shifter
Como ya vimos con el Logitech G29, la palanca de cambios es un artículo opcional al contrario que con el modelo anterior el G27 que si venía en el kit con los pedales y volante. En estas nuevas versiones, si queremos la palanca de cambio debemos comprarla a parte. Tiene un precio en Amazon de 39 euros, y nos puede ser muy útil para según que juegos.
Offers