PlayStation VR Aim Controller, siente la VR en tus manos
La pistola de Sony para PlayStation es la VR Aim Controller, la cual es el complemento perfecto para las gafas de realidad virtual y los juegos de guerra.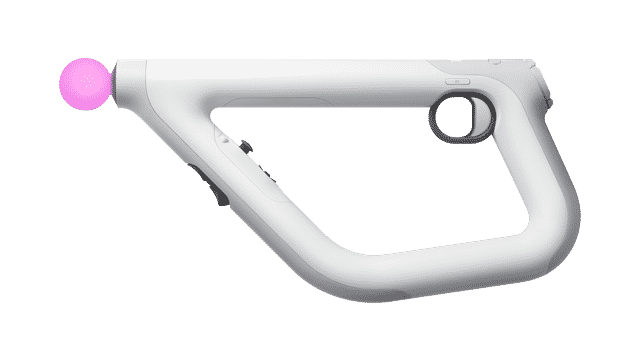 Características
Conexión inalámbrica
Sistema de vibración
Control joystick analógico
Teclas D-pad, Hogar, Seleccionar, Inicio
Tecnología de Analógico y Digital para control de juego
La mejor oferta
Sony - PlayStation VR Aim Controller
Integrated motion sensor and trackable sphere work with the PlayStation Camera to deliver precision tracking - keeping your shots lighting fast and deadly accurate.
Engage the enemy and your surrounds in whole new ways as the unique, ergonomic design creates an incredible sense of connection between you and your virtual world. Supporting both left and right-handed grips, the lightweight controller looks and feels just like a real weapon as it vibrates with every shot you fire
With a range of compatible games available and more incoming, the PS VR aim controller's extensive arsenal of DUALSHOCK 4 controls- including dual sticks for full FPS motion and action buttons alongside a large trigger - mean you're always armed and ready to combat new enemies and adapt to new challenges
Imágenes
Descubre los secretos de AIM Controller
El complemento perfecto
Es el complemento perfecto para disfrutar de la realidad virtual de tu PlayStation y hacerte sentir un poco más la realidad virtual. Es el plus perfecto para que tu PS4 y tu seáis un conjunto.
Juegos Compatibles
Aunque no deja de ser un controlador, hay juegos a los que podrás sacar mucho más partido con tus gafas y tu AIM controller.
Aquí puedes ver una lista de algunos a los que sacar ese partido, aunque hay más:
Arizona Sunshine
Borderlands 2 VR
Bravo Team
ChromaGun
Dick Wilde
Dick Wilde 2
DOOM VFR
Evasion
Farpoint
Firewall Zero Hour
ROM: Extraction
Sniper Elite VR
Special Delivery
The Brookhaven Experiment
Unearthing Mars 2
Ofertas de Packs PS VR AIM Controller con juegos
Puedes comprar tu AIM Controller por separado o en un pack junto con algún juego. Aquí puedes ver alguna de las ofertas de esos Packs que están disponibles en Amazon.
Sumario
Valoración de Autor
Marca
Producto
PlayStation VR Aim Controller