Xbox Wireless Controller Special Edition Night Ops Camo at the best price in 2020
The wireless controller for Xbox official presents its special edition Night Ops Camo at an incomparable price. Its camouflage design makes this control not go unnoticed.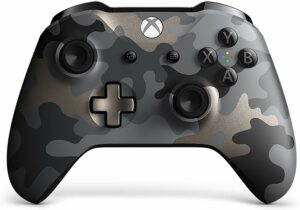 Features
High precision
Rugged design camouflage design in black, gray and metallic gold
Rubber grip
Bluetooth connectivity
Custom Button Mapping
Headphone connection
Compatible with personal computer
Enjoy the best price
Offers
Microsoft - Mando inalámbrico, Black Ops Camo [Edición Especial] (Xbox One)
Mando inalámbrico Xbox Night Ops Camo Special el primero de una serie de mandos, con un rugoso diseño de camuflaje en negro, gris y dorado metálico
Equípate para la acción Mando Inalámbrico Xbox Night Ops Camo Edición Especial, con un rugoso diseño de camuflaje en negro, gris y dorado metálico
Agarre de goma de diamante experimenta la mayor comodidad y la sensación del mando inalámbrico Xbox
Tecnología Bluetooth: juega tus juegos favoritos en PC con Windows 10 y tabletas
Mapeo personalizado Disfruta la asignación personalizada de botones; además, conecta cualquier auricular compatible con el conector para auriculares estéreo de 3.5 mm
Detailed images of Xbox NIght Ops Edition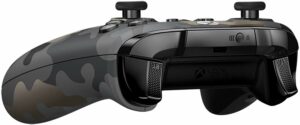 Other Xbox controllers at the best price
Enjoy your Xbox controller
The original Microsoft command is undoubtedly a synonym for warranty. It's a guarantee that you won't have problems in the middle of a game or during an important game.
Enjoy other products for your console Xbox